View the Q&A from our Medicinal Cannabis in the Workplace webinar.
Read more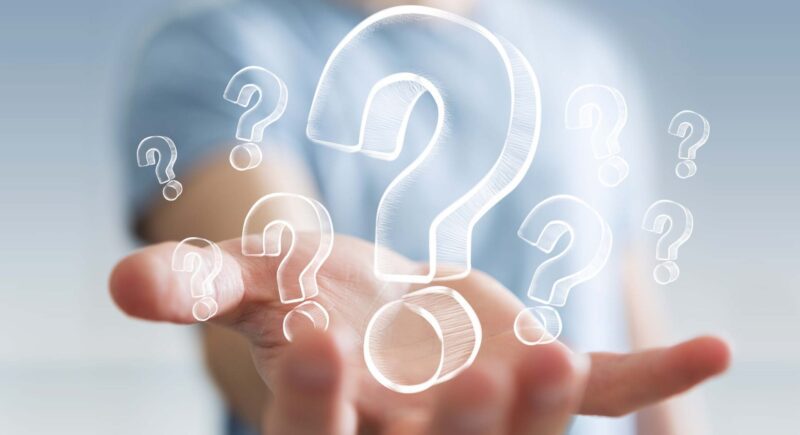 During our Medicinal Cannabis in the Workplace webinar held on 9 August 2023, numerous questions were asked, some of which we did not have time to answer during the session. Below are all the questions asked, along with our responses.
Should you have any additional questions, please don't hesitate to reach out to us at info@swhealth.com.au.
Webinar Q&A
With regards to pre-employment testing. If someone has declared they're taking medicinal cannabis, are we able to notify to determine cbd:thc ratio?
The laboratory does not currently determine the level of CBD present in a sample. This could be relevant for oral fluid where detection is more closely aligned with impairment. While we have nothing to announce at this stage, we are constantly working to improve our service offerings to clients.
We have a Zero Tolerance policy which was previously provided to us by Safework Health.  Should this be updated/replaced by a Zero Harm policy and can Safework help with a template for this?
Your drug and alcohol policy should be tailored to your requirements. There are some industries where a zero-tolerance approach is correct, for example where public safety is involved or where there is a high risk of catastrophic failure in the event of an accident or incident. Your policy can be reviewed in light of your requirements.
Could it be considered discrimination not to employ people with a medicinal cannabis prescription?
Yes, it is possible that it may be considered discrimination if the deciding factor in the decision was their medicinal cannabis prescription.
Any feedback on how the insurers (motor vehicles) are viewing potential changes to road use and (potential) impairment?
Currently, the presence of THC in blood can be used as evidence for prosecution purposes and may also affect vehicle and personal injury insurance claims. We would suggest contacting your insurer to determine their policy on medicinal cannabis in relation to their insurance products.
Is there a way to determine if the medication is being misused? i.e. a level above which the result must be misused? Are you able to test and differentiate between prescribed dosage and use against misuse of cannabis?
There are methods of determining if the result of a confirmed drug test are in-line with levels expected. The determination can be complex and will require additional information on the donor and their age/sex/height/weight. Dosage and frequency of use and time since last dose. Urine THC levels can be used as a rule-out assay – i.e., this level is or is not consistent with the stated dosage.
So, since THC accumulates with use, and doing a series of tests would allow you to determine if the THC is being used in therapeutic values, would employers be required to do a series of tests before making a determination about whether an employee is using their medication appropriately and legally?
The testing regime is up to the employer, and how their policy handles medications. It may be beneficial to monitor an employee who has recently started taking medicinal cannabis to establish a baseline response. Interpretation of results should be performed by someone with appropriate training and experience.
If a GP provides a letter and the worker then misuses the medication, and isn't being regularly tested as the GP has provided confirmation of the prescribed meds and then is involved in an incident and found to be affected by the medication, where does liability sit – with the worker, the employer or the GP?
A fiduciary duty of care implies all these agents share some responsibility for the worker's designation as being 'fit-for-work'. There is an expectation however, that the reviewing Medical Officer's opinion will be paramount – so if the GP says the worker is fit, the primary responsibility would lie with the MO. Note that if the worker abuses the prescribed dosage (i.e., takes excess) and shows clear evidence of impairment, then the workplace must assume primary responsibility for not intervening and instituting some for a review/Testing On Suspicion/Testing for Cause.
What if there is no option in terms of other duties and the employee is taking THC?
In such a case, it is important that the worker's prescribed THC regimen is reviewed by a doctor – ideally an OHS physician or at least the worker's prescribing MO certifying that the worker is fit for work. Medicinal THC should ideally only be taken >8 hrs before working – especially when dealing with safety-critical areas. CBD has no significant impairing effects apart from occasional tiredness within < 2 hrs of use. Workers taking THC should also be careful not to take benzodiazepines  < 10 hrs prior to working, as THC enhances the sedative effect.
Is there going to be clear guidance on CBD in safety critical roles and workplaces?
CBD, unlike THC, is NOT associated with impairment, apart from (i) transient drowsiness experienced by a minority of workers only within the first 2 hours after use; and (ii) possible worsening of low blood pressure (hypotension) in people with pre-existing low blood pressure. Essentially – CBD is safe.
Could we just get a letter from their doctor to state if they can continue doing their normal duties – similar to a suitable duties/restricted duties plan?
A letter from the prescribing Doctor declaring they are fit for work is a good first start, however depending on their role/responsibilities there may still be an issue if a non-negative result is returned for THC.
What is stopping someone who is a regular user to go online and get a medical subscription for work purposes?
Medicinal cannabis should only be prescribed where no other valid form of treatment is available. There is anecdotal evidence that people have moved from illicit/black-market cannabis to medicinal cannabis prescriptions.
When asked about medicinal cannabis use, now being "legal" and how we treat this in the workplace, I equate it with alcohol – its legal, but we don't allow people to come to work under the influence. Is this is a fair analogy, or would you recommend something else?
Yes, this is a fair analogy, as a society we have determined that a 0.05 BAC is an acceptable risk to health and safety. At some point an equivalent level will likely be set for THC. It is worth noting that even at 0.05 BAC there is a level of impairment present.
Are we saying there shouldn't be a concern of impairment or safety risks if someone has been prescribed CBD through TGA and has a prescription and is taking the prescribed medication? If it is not through the TGA and just a prescription from a local GP or online, would this be different?
All medicinal cannabis prescriptions in Australia are provided through the TGA's Special Access Scheme (SAS) and must be filled by a Pharmacist. Consultations can be held online, but the prescription must be filled in person. When taken as prescribed, CBD should not have a concern of impairment. It is worth noting that there is a window of around 2 hours post use where CBD can cause sleepiness. This should be taken into consideration by the prescribing doctor.
What would you determine as a safety critical role assessment?
This would depend on the employer's Drug & Alcohol Monitoring Policy – it would be their decision as to what activities constitute a high-safety risk, and what level of risk they deem acceptable (i.e., zero-use/tolerance vs harm reduction). Safety-risk assessments would include a review of the worker's current medications and health status (any possible complicating medical conditions).
Are mining companies moving towards Zero Harm re THC in this regard?
Yes – there is a general tendency to move towards 'zero harm' policies over simple 'zero tolerance'. This means the focus is set on impairment rather than detection of an episode of prior use (w.r.t. THC – not amphetamine/meth where any detectable amount is consistent with being affected).
Is there a code of practice being developed to govern the changes in industry? There is certainly greater Fair Work issues at play other than just operating impaired.
Not currently, but industry policy groups, Health & Safety Forums and relevant industry OHS committees are seeking advice about addressing the issue. Most employer groups are seeking consultation from drug testing agencies about the issue and are incorporating provisions to their Drug & Alcohol Management Policies to ensure that medicinal cannabis use can be managed within the framework of handling prescription medication whilst maintaining workplace safety. The various State and Commonwealth legislatures are reviewing the legal situation, so the current situation may change.
Would it be acceptable that there is a requirement to declare use of medicinal cannabis to a health professional at a remote operational site?
It is important to maintain privacy for the employee, however trained medical professionals should be authorised to receive this information and provide advice in relation to an employee's fitness for duty.
On prescribed cannabis, are they labelled the category they fit into? 1, 2, 3 etc?
Medicinal cannabis products are not directly labelled with the category, but this can be determined from the stated level of THC and/or CBD. Please contact Safework Health if you would like help with determining the category.
Just to confirm, if someone provides a negative result on an oral fluid test then we can be comfortable that they are not impaired?
Yes, if an on-site oral fluid test is negative there is no reason to suspect impairment by THC.
Is it possible to determine through a set level of THC/CBD would impact cognitive function in a worker? Or level of impairment?
There have been numerous studies attempting to correlate a level of THC with impairment. To the best of our knowledge there is no consensus on what level of THC constitutes impairment across all people. Additional studies will be required to do this.
How does the TCH Free CBD prescription vs Traces of THC in CBD Prescriptions?
Category 1 (>98% CBD) should have levels of THC well below that detectable by either oral fluid or urine screens. The allowable limits are set to cover manufacturers of medicinal cannabis products, since complete removal of THC cannot be guaranteed. If/when medicinal cannabis preparations receive TGA approval, the requirements around other components will likely tighten.
And are people under any obligation to disclose they have a prescription?
This depends on the specific work contract involved. If the contract includes a provision to inform the appropriate supervisor if they're taking prescribed medications which might potentially lead to impairment, then they would have to do so. However, there is no general legislated obligation to disclose.
Impairment seems an irrelevant argument. The line in the sand is the level set by the Standard isn't it?
Employers have an overriding fiduciary duty of care to maintain a safe workplace and minimise the risk of injury and death among their workers, regardless of the provisions of the Standard – so amending their DAMPs is advisable.
If we were to rely on a Dr letter stating "fit for normal duties", surely this would need to from an Occupational Physician who understands industry work roles and what they entail?
Ideally, yes – or by any accredited Toxicological authority. However, it may not be practical (limited availability) and a thorough review by a competent GP (with appropriate toxicological advice) would be sufficient in the majority of cases.
How does THC Free CBD vs THC traces compare in use and legality especially in Health Professionals?
There are no restrictions placed on CBD use – it is not associated with impairment. This requires that the THC content of the medication be < 2%.
What is the rigor on checks / balances by TGA on the providers of CBD?
Currently the TGA does not assess the validity of the purity/content claims for the overwhelming majority of medicinal cannabis preparations and relies on the manufacturer purity claims. For this reason it is advisable that workers be encouraged to use only reputable brand preparations – e.g. Cannatrek etc.
What's the age limit for using?
The lower age limit – save in exceptional cases such as reducing nausea from chemotherapy for cancer – is 18 yrs. There is no upper limit for medicinal cannabis prescription.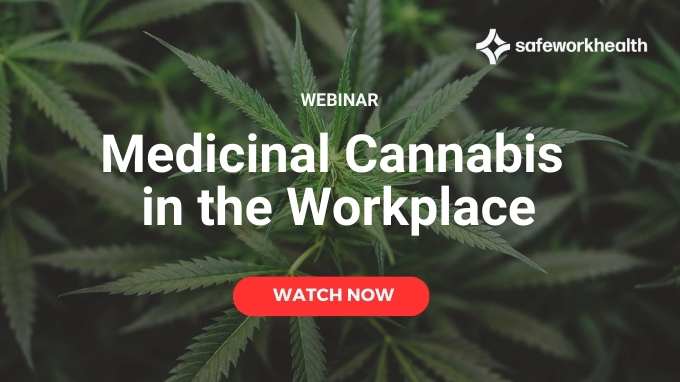 Watch The Webinar
Did you miss the webinar? Don't worry, you can watch a replay of the webinar on our Webinars and Events page.