Understanding Urine Drug Testing in the Workplace
September 20, 2023
3 MIN READ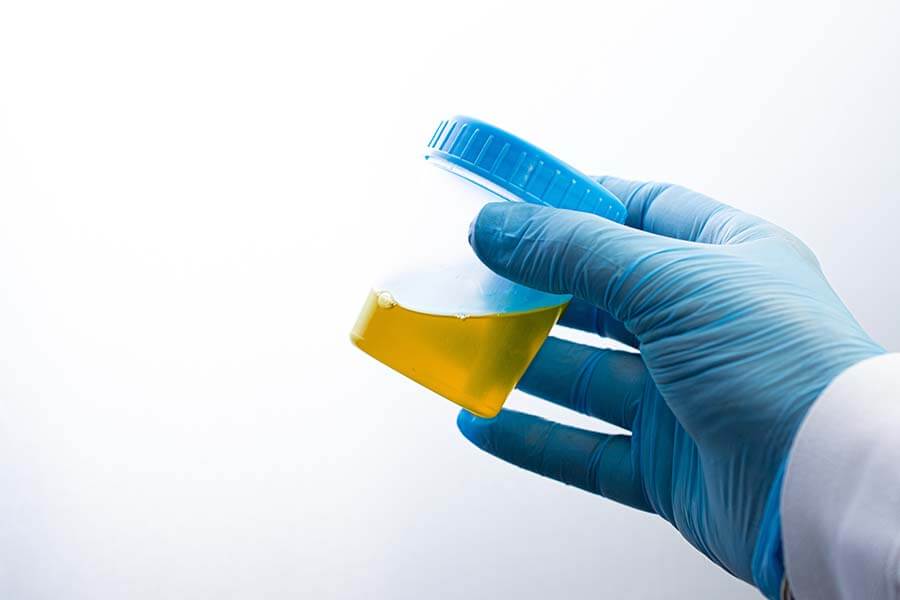 A urine drug test, or urine drug screen (UDS), is the most common method of workplace drug screening in Australia.
Many employers prioritise the safety and well-being of their employees by employing this method due to its speed and accuracy in detecting drug traces in urine samples.
A urine drug test aids both employers and employees in preventing hazardous situations that could potentially lead to accidents and fatalities.
What Drugs Does a Urine Drug Test Detect?
Pros And Cons Of Urine Drug Testing
While urine drug testing has its advantages, it's important to note that each method has its own strengths and limitations.
The choice of testing method should be based on factors such as the specific drugs being tested for, the detection window required, the ease of sample collection, and the overall testing goals.
Advantages of a Urine Drug Test
Wide Detection Window: Urine testing typically has a longer detection window compared to saliva testing. Drugs and their metabolites can be detected in urine for a more extended period, making it suitable for detecting past drug use.
Ability to Detect a Wide Range of Substances: Urine testing can detect a broader range of substances compared to saliva testing, making it a preferred choice for comprehensive drug testing panels. It can detect both drugs and their metabolites.
Cost-Effective: Urine drug testing is often more cost-effective than hair testing, which can be more labour-intensive and expensive to process.
Immediate Results for On-Site Testing: For on-site testing, urine tests typically provide quicker results compared to sending samples to a laboratory, making them suitable for immediate decision-making.
Established and Reliable Method: Urine drug testing is a well-established and widely used method with a long history of reliability and accuracy.
Limitations of a Urine Drug Test
Invasiveness: Collecting a urine sample can be considered invasive, as it requires individuals to provide a urine specimen. Some people may find this process uncomfortable or embarrassing.
Ability to Cheat or Tamper: Some individuals may attempt to cheat or tamper with their urine samples to produce false-negative results. This can be done through various methods, such as dilution, adulteration with substances like bleach or vinegar, or using synthetic urine.
Need for Adequate Toilet Facilities: Urine drug testing necessitates access to suitable and private toilet facilities where individuals can provide urine specimens. In some settings, ensuring the availability of these facilities can be challenging, especially in remote or mobile testing scenarios.
Urine Drug Testing Detection Times in Australia
The detection times for drugs in urine can vary depending on several factors, including the specific drug, the frequency of use, and an individual's metabolism. In Australia, here are approximate detection times for some commonly tested drugs:
Amphetamine Type Substances (methamphetamine, amphetamine, MDMA, MDA): 2 – 4 days
Benzodiazepines: 7 days – 3 weeks
Cannabis: 3 – 14 days (30 – 40 days with obesity)
Cocaine: 3 – 5 days
Opiates (heroin, morphine, codeine): 3 days
Urine Drug Testing Procedures in Australia
In most cases, employees in Australia undergo urine drug tests at their workplace under the supervision of qualified Drug and Alcohol Collectors. However, in some instances, employees may be required to visit a testing clinic.
During the test, a Collector will provide the patient with a specimen cup and instructions for proper specimen collection, which involves capturing mid-stream urine. The specimen is then handed over to the Collector for labelling and processing.
The actual drug testing occurs in the laboratory. To ensure the reliability of a urine drug test, lab technicians must maintain a strict chain of custody, meticulously documenting the handling and storage of the urine specimen until disposal. If the initial test results are positive, additional tests are conducted to confirm the outcome. For a definitive result, both tests must match.
Safework Health's Urine Screening Services
Safework Health has over 100 certified Collectors across Australia who can perform an instant urine drug test on-site at your workplace or at one of our clinics.
We also offer a range of urine drug test kits that conform with Australian and New Zealand Standard AS/NZS 4308:2008.
Contact us today to learn more.
NEWSLETTER SUBSCRIPTION
Subscribe and Stay
Up-To-Date!